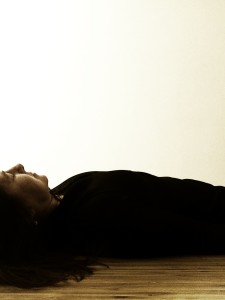 "As if you were on fire from within.
The moon lives in the lining of your skin."
― Pablo Neruda
"We see the beauty within and cannot say no."
― Dave Eggers, A Heartbreaking Work of Staggering Genius
Beauty and Sleep.  Two very good friends, bedfellows even.
The expression "Beauty Sleep" usually conjures the image of a pearlescent woman in a long, silky gown, delicately dabbing white cream on her cheeks, in preparation for sleep– so that she may wake yet another morning looking  FABULOUS.
Not that there's anything wrong with this. I luxuriate now and then.
But there's the Other Beauty….and the Other Sleep.
I mean Inner Beauty and Yoga Nidra.
Inner Beauty is undefinable– mysterious and elusive — yet we know it when we see it.
The moments when you're resting into the deeper states of Yoga Nidra, you don't know it. Afterwards, you not only know you were there, but know that you were in the BEST of places, a familiar place…
Yoga Nidra means "Sleep of the Yogis" and has been called all kinds of poetic things because Yoga Nidra is so delicious– luxurious even– an Inner Beauty Resiliency Reserve of sorts, and pretty tricky to describe.
The most awesome things about us exist beyond description.
I love the Dave Eggers quote above. He's so right! "We see the beauty within and cannot say no."
And Neruda's quote, a dazzling portrayal of Inner Beauty as the moon in the lining of the skin.
I think when we're really awake in life, active, doing our thing, we're like the sun shining from within, on fire like the sun, golden and hot.
When we're "awake" in Yoga Nidra, deeply calm, relaxing into the our resiliency reserves, floating in our Greatness, we're like the moon shining from within, illuminated, sparkling silvery and cool.
Can you imagine what kind of person would not want to possess Inner Beauty?
Me neither.
So, I'm always happy to practice Yoga Nidra and guide people to Yoga Nidra territory.
Outer Beauty is no guarantee of Inner Beauty, everybody knows that (though some feign ignorance of this truth)…
Sleep (the Nighttime kind) is no guarantee of rest. Did you know that? 
At times when we're practicing Yoga Nidra, we're resting way deeper than in nighttime sleep– which can be full of stress, especially if we go to bed tired, but feeling stressed.
So, with regular practice of Yoga Nidra, you might actually come out more FABULOUS than the fancy ladies in their fancy gowns.
Yoga Nidra takes you to the place where stress cannot go. Did you know you had such a place?
You do.
Wanna learn more about Yoga Nidra, and DO A  LOT of Yoga Nidra with other people who also love it?
I'll be doing a Yoga Nidra trainings in July
First, 1 for all kinds of people who want to practice at home or in a field of daisies or wherever Inner Beauty Sleep can be had…and then another training begins right on the heels of the first…
This second one is for parents, teachers, therapists, doulas, coaches– anyone who hasn't gotten enough from the first training, or would like to offer Yoga Nidra to those they serve. Do either one– or both.
A pre-registration list is already forming. Interested in hopping on it? There's no cost to get on the pre-registration list. You're under no obligation to attend, but will be the first to know when registration opens..So why not.
We'll be doing a session of Yoga Nidra at my daylong retreat in June at Green Gulch and you are cordially invited. Earlybird registration with a special price is still open!