Every so often, we shine our lovelight on somelovely in our readership community.
To see what amazing things they do,
how they do it, why they do it.
This time the soft glow turns toward Europe to highlight someone known and loved in many places on the globe. Someone currently spending time in Lyon, France.
An architect, designer, artist.
A hilarious humanitarian.
A little bit of DaDa, a little bit rock-n-roll.
A whole lot of class and creativity.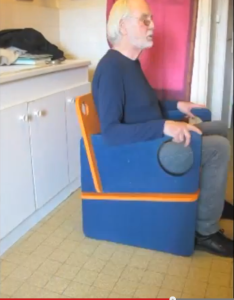 Be sure to check out the 20 second stop-motion video he and his friends made about the chair.
---
Quint by Design 
(Adriaan Q. Neven du Mont & daughters)
www.quintbydesign.blogspot.com
I interviewed Quint via email.
You can read the interview below.
You're gonna love him & his
special style of expression.
So, let's meet Quint.

 
(Quint, Bordeaux, France, circa 2012)
YOU KNOW QUINT"S WORK ALREADY.
He's the designer and maker of the meditation chair
that graces my studio with it's warm, sensual, sturdy
presence. (See pics below)
I've written here about that chair.
Now, Quint shares how the chair's most unique
feature 
came about:
"In 1967, I, a native of Bavaria, arrived in Berkeley with my Californian-born wife, Maomi, and our 5 kids. I was without a penny but in quest of becoming a famous architect – as my then-friend Frank Gehry later became.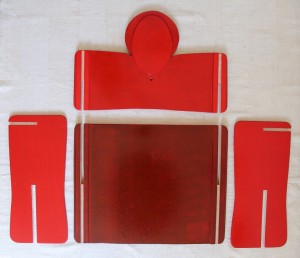 To build chairs for our home and rocking horses for the children, I found some left-over plywood on Prince Street and borrowed a jig saw from a neighbor.The secret was a system of cutting pieces of plywood, sliding them together into a chair… and forget about nails, screws, or even a hammer…."
More about Quint, his work, and other stories below…
---
Here's the interview:
Tina:  In the story above you mention you were making furniture in Berkeley in 1967/68. Can you elaborate ?
Quint: Arriving in Berkeley in 1967, I had just pocketed a master degree in architecture from the University of Munich. I was convinced that California was just eagerly waiting to provide me a job. That certainly proved to be an illusion.
This system I "invented" of cutting and sliding plywood sheets into each to make chairs without screws, bolts, nails etc., eventually proved good enough to find jobs here and there as a low-level carpenter with a master degree in architecture from the honorable University of Munich.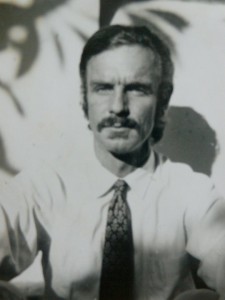 Tina: Were you influenced by the social/ political goings-on during that time in Berkeley ?
Quint: Berkeley was certainly "the" hot spot at that time. Hippies, Black Panthers. Students revolting in Telegraph Ave.
Rock and Roll at its best in Fillmore West. Cassius Clay boxing and rallying. The smell of Buddhism, hash, pot, incense around every corner…Robert Kennedy shot, Martin Luther King shot, Huey Newton shot. Ronald Reagan on the rise, and all too many other things to mention… All happened in front of our eyes and ears.…Mid 1968 we left or had to leave, if not I would have been drafted, Vietnam being just around the corner.
Tina: What is your favorite thing about the meditation chair ?
Quint: After the Californian "short story" we returned to Germany, where I only remember to have filmed the moon in synchrony with Armstrong walking on it. Then we went to Chiang Mai, Thailand. The meditation chair came about this way:
Down on the river banks a monk was meditating under a bright yellow umbrella. When it rained he sat in a puddle of water. Imagining the monks disagreeable feelings I built a chair for him using my system and waterproof marine plywood. With a twinkle in his eyes, the monk took the chair and continued meditation. Over 40 years later I'm meeting people who practice meditation and Yoga and often just need to relax.
I believe this so-called "meditation chair" symbolizes a proper space or central place of one's own world – in an often disorderly, profane environment. I imagine that this chair should belong to only one person.
Tina: Is there a common theme or signature element in all things you design?
Quint: There is certainly something like a theme or signature attached to my designs, which I describe as minimalism, somewhat bauhaus with a hint of pop. Basically I design by intuition, consciousness of the mind comes rather as a second-hand interpretation.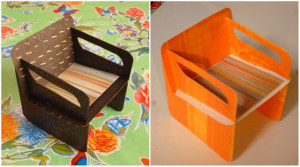 Tina: Do you design with a certain group of people in mind, such as from a certain economic class or where and how they live, what they can afford or fit into their living space?
Quint: I have absolutely no specific group of people or economic class in mind. I simply imagine people, who get attracted to this chair by their own feeling.  I'm doing each meditation chair by hand, so when it comes to costs I'm aware that I can not compete with IKEA or China Made and so on.
Tina: Can design ever be a political act ?
Quint: Design as well as art can become a political act. Just recently we were reminded, when over a thousand great paintings were re-discovered in Munich, which the Nazi's considered "entartete Kunst", which they either destroyed or by greed sold to neighboring countries.
I got to know George Grosz, a friend of my father. His art was pure political action and I loved him for that.
Design is different from art, but the design of a kings gold-covered throne is certainly a political act. The design of a meditation chair in this sense can be also seen as a political act, because one cannot imagine that beloved Queen Elisabeth declines to sit on it.
Tina: When you design, what comes first — the aesthetic or the utilitarian– or what is the relationship of the two aspects?
Quint: I design out of intuition, which is based on combining the aesthetic and the utilitarian needs of an unknown client and I try to balance both aspects with the factor of costs.
Also a little bit off the question. I would like to design an aesthetic and utilitarian alternative to the actual models of paper and/or metal money. Something I'll never forget– when we once lived in the mountains of Switzerland. Our coins had more value in silver, than in nominal writing on the coins. (1 nominal Fr was worth 1,40 Fr in silver value.) This happens when the aesthetic and the utilitarian aspect are out of balance.
Tina: Who are your mentors or who influences you in shaping your designs?
Quint: The basic influences on me seem to be my genes, my Karma and the rest of experiences stored in my sub and/or un-consciousness.
Since childhood I was fond of surrealism all over the centuries.
I always was fond of  Mies van der Rohe's statement "form follows function" or  of the Japanese saying: "what you do not see must be as perfect as what you see" and now I am fond of the endless number phi as well as the "la regle d'or" which explains about all and everything, when it comes to designing, forming and building.
Tina: I love the collage art works on the "Quint by Design" website. Do you sell any of that artwork?
Quint: These collages are abundant…I am actually trying to gather them and publish a catalog of ALL collages, which have been scanned… I don't want them to disappear in the gutters, because I appreciate them quite a lot myself, but eventually I am selling them via internet in the nearest future.
However, other things on the site such as the Juju table (below, top) and chairs (below, bottom) including the meditation chair are for sale.
(a few more questions below….)
Tina: Now a few questions I ask everyone. It's a theme we're threading through all the "YOU" interviews we've done and will continue to do.
Tina: First question. What never fails to make you smile (happy)?
Quint: When someone smiles at me first.
Tina: What breaks your heart?
Quint: A heart attack, I suppose.
Tina: If you were granted the chance to say anything at all to the whole world and everyone regardless of native language (and even the dying, even the deaf) could not only hear you, not only understand the words, but TOTALLY GET what you were saying and be influenced by it, what would you say?
Quint: "Regardless of language," I wouldn't "say" a word. I would just sing OM OOM OOOM OOOOOOM.
Thanks to Quint for all of his designs, including his architecture,
much of which serves humanitarian purposes. Schools rebuilt
in war-torn countries such as Aphganistan, for instance.
And thanks to him for sharing some of his time, humor and insight with us.
To All of you reading this:
Please visit Quint's website to find out more about him and his work
in architecture, design & collage.
The content there is so amazing and rich.
There will be so much more to come as the site builds.
AND
Maybe someone very special to you needs
a handmade "pop chair" or "juju table?"Quint's website: 
www.quintbydesign.blogspot.com
And here's that 20 second stop motion video…..